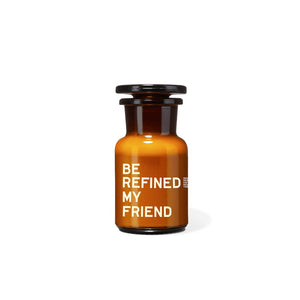 BE REFINED MY FRIEND:
ist unser sanftes und effektives Enzympeeling für das Gesicht mit Tonerde, Reisstärke, Ananas, Papaya-Extrakt und Salicylsäure. Dieses Pulver kann mit verschiedenen Produkten* gemischt oder nur mit Wasser verwendet werden.
1-2 Mal pro Woche eine erbsengroße Menge BE REFINED in der Hand mit einem Produkt deiner Wahl* oder Wasser mischen und auf das angefeuchtete Gesicht, Hals und Dekolleté́ auftragen und sanft einmassieren, dabei die Augenpartie aussparen. Nach einer kurzen Einwirkzeit (1-2 Minuten) mit lauwarmem Wasser abwaschen.
Eigenschaften: Natürliche Enzyme lösen abgestorbene Hautzellen auf und aktivieren die Zellerneuerung deiner Haut. Tonerde, Reisstärke, Ananas- und Papaya-Extrakt versorgen die Haut zusätzlich mit Aminosäuren, Vitaminen und Mineralien.
BE REFINED ist für jeden geeignet, egal ob du einen ebenmäßigen oder unreinen Teint hast. Die natürlichen Enzyme klären deine Haut sanft und entfernen effektiv Unreinheiten. Für einen klaren, strahlenden und ebenmäßigen Teint. Ideal auch für empfindliche Haut.
* Mit Wasser oder BE CLEAR (unsere reinigende Gesichtsseife), BE HYDRO (unser Anti-Aging-Hyaluronserum) oder BE GLOW (unser neues Gesichtsöl) verwenden.