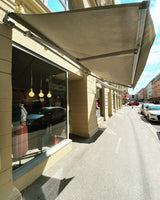 Contemporary streetwear for women an men
We are a contemporary concept store since 2015 in the heart of Innsbruck. Our story is about making a positive difference by offering high quality products with a clean, timeless design to extend the lifetime cycle of each product. For us, fair and sustainable productions are a matter of course. In addition, we strive to always offer handpicked products that are special and unique in design.
If you're nearby, stop by and say hello or just browse the online store to get inspired.
Thank you for supporting us!