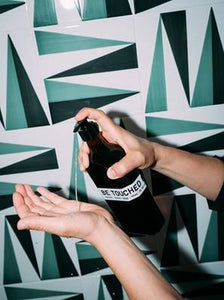 It`s oil o'clock!
BE TOUCHED MY FRIEND is a true beauty miracle and especially after a day in the cold the must-have for the daily beauty routine. The vegan body oil is extremely rich; it replenishes moisture stores and covers the body like a protective film without being occlusive. It is based on fatty acids and provides lipids to the skin; stressed skin becomes super soft, silky smooth and it is also supplied with abundant nutrients.
What's in it?
Jojoba oil is one of the popular oils in body and skin care: jojoba moisturizes dry skin as well as nourishing fatty acids such as omega-6 and omega-9. Jojoba oil is quickly absorbed and is suitable for all skin types. Beauties, take note: It also acts as an anti-aging product, gives tone and regulates sebum production of oily skin. This means it prevents pimples and soothes inflammation. A real all-rounder!
It smells wonderful, is rich in valuable ingredients and cares for skin and hair in a unique way: almond oil. The organic skin oil is an absolute all-rounder, it cares for the skin with teocopherol (vitamin E), essential nutrients and unsaturated fatty acids that make dry skin supple. In addition, it is quickly absorbed and does not leave a greasy film.
How is it used?
As an après sun care: apply it to damp skin and massage it in thoroughly.
As an après cold care: apply it to skin and massage it in thoroughly.
In the shower: enjoy the foam-free oil based on the Oil Cleansing method. Simply apply to damp skin, then rinse thoroughly with lukewarm water and dry gently.
As a bath oil: add 3-5 tablespoons of oil to the incoming bath water and enjoy.
As a body oil: Perfect for daily body care. Best applied in a very thin layer directly after bathing or showering and massaged into damp skin.
As pre-shampoo care: Apply evenly to the hair and massage gently into the scalp. Then cover the hair and leave on for 30-60 minutes, rinse and wash with shampoo as usual.
At the latest now we are sure that BE TOUCHED MY FRIEND has got a fixed place in your daily beauty routine.