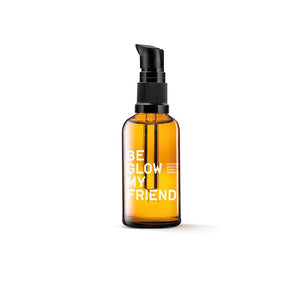 BE GLOW MY FRIEND ist unser seidiges, ausgleichendes und schnell einziehendes Gesichtsöl. Es unterstützt die Regeneration Ihrer Haut.
Eigenschaften: Hochwertige Pflanzenöle aus Traubenkernen, Mandeln, Jojoba und Sonnenblumen glätten Ihre Haut und verleihen ihr Elastizität. Diese hochwirksame Formel ist mit einer leistungsstarken Mischung aus Fettsäuren und Antioxidantien angereichert, die Ihre Haut tiefgehend nähren und regenerieren.
BE GLOW MY FRIEND ist vollgepackt mit natürlicher, pflanzlicher Kraft und geht auf natürliche Weise auf Ihre Hauptprobleme ein, um Ihnen eine gesunde, strahlende Haut zu verleihen. Mit den verschiedenen Lebensabschnitten ändern sich auch die wichtigsten Probleme wie Trockenheit, Rötungen und Elastizitätsverlust. Schwangerschaft und Wechseljahre können ein Ungleichgewicht der Haut verursachen. Auch Stress und Schlafmangel können dazu führen, dass Ihre Haut ihren Komfort und ihr Gleichgewicht verliert.
BE GLOW kann Ihnen helfen, Ihre Haut wieder zum Strahlen zu bringen und ihr die jugendliche Frische zu verleihen, die sie braucht.